Metal Roofing is an Option!
Metal Roofing in residential neighborhoods is becoming more popular as homeowners are realizing the advantages. Metal roofs offer many benefits, including low maintenance, energy efficiency, and durability, as well as enhancing the curb appeal of your home.
Graber Roofing offers both exposed fasteners and standing seam metal panels for both residential and commercial properties. While many roofing companies' upcharge for standing seam metal roofs, it is a standard offering for us. Exposed fasteners metal roofs are 28 gauge, compared to standing seam metal roofs are 26 gauge. Standing seam metals roofs offers a stronger more rigged panel for longevity.
Contact us today for a free estimate, and for more information about our metal roofing systems!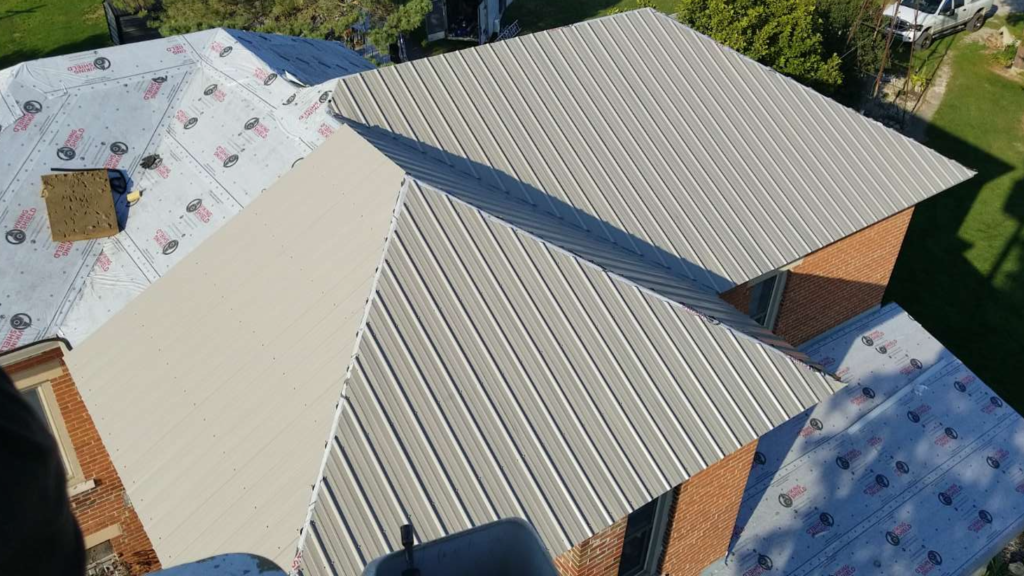 Exposed Fastener Metal Roofing
Also referred to as screw through metal roofing, exposed fasteners are generally a less labor-intensive options since they are quicker and easier to install. They are typically 28-gauge panels with 67 screws per square. Leave the last sentence in there as well.
Standing Metal Seam Roof
Standing Seam gives sleek, straight lines with no exposed fasteners, taking away from the appearance. The strong 26 gauge panels are typically 16" wide with a fastener flange attached to the existing roof or roof substrate. The slotted fastener flange allows for thermal movement as the metals expand and contract during weather changes. This will also help prevent "oil canning" (visible ripples in metal) and fastener withdrawal. The concealed fasteners, in addition to the seam, gives a more watertight installation as there is nothing penetrating the face of the panels.
Having a sturdy roof that will always protect your home with little to no maintenance is every homeowner's dream. This is achievable when you add a new metal roof to your home. You'll get many benefits from a metal roof, but none greater than peace of mind. When we install our metal roofs, you can take comfort in knowing your roof will probably outlast the lifespan of your home. That's how sturdy and durable metal roofs are.
Long Lasting Life Span
Rain & Snow Shedding
Energy Efficient
Environmentally Friendly
Fire Resistant
Mold & Fungus Resistant
Lowers Energy Bills Over Time